[printfriendly]
We didn't just blow in yesterday.
Mowers & More has been in the mower industry for longer than most individuals have owned a lawn mower! And unlike most mower shops, we really enjoy what we do. As the other shops have come and gone, we've stuck around – through recessions and boom-times. Here's why:
We're well-respected because we know our products inside out.
We don't sell rubbish. You only find the best brands at Mowers and More.
We have a wealth of knowledge and experience which we pass on to our customers.
We service and maintain every brand, no matter where you made your purchase.
We stock a huge range on the floor so you actually see what you want to buy.
We fully assemble, test, tune and fuel up your purchase before you take it home.
The brands we sell include: Stihl, Honda, Victa, Echo, Briggs & Stratton, Davey, Deutcher, Shindaiwa, Cox, Graden, MTD, Rover, Coleman, Yard-Man, Cub Cadet, Ariens, Supaswift, Atom, Billy Goat, Proscape, Advance Power and Solo.
A Lifetime of Experience at your Disposal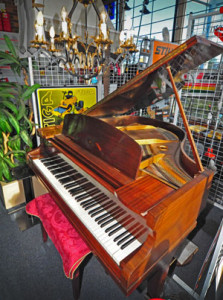 Mowers and More was founded by Erwin Gjisen – a bloke who's worked on and loved quality mowers since he was 14. When Erwin first decided on the site in Diamond Creek for Mowers and More, he was met with a lot of scepticism. They said, "Who's going to come out here for a mower?"
But most didn't know that a major arterial was about to be built and the once sleepy town of Diamond Creek would become a desirable new suburb of Melbourne. Equally, Erwin's obsession with doing things once and doing them right, saw him build a showroom and workshop entirely out of Daniel Robertson bricks – a premium-grade product at that time, used for building mansions.
Eccentricity also came in the form of marketing, Erwin style. You may be surprised to know that Mowers and More in Diamond Creek is the only mower shop in the country (possibly the world) with a grand piano and a chandelier… Shortly after the shop was completed, Erwin routinely parked his car outside at 6.30 in the morning with his headlights directed at the showroom – so the people driving off to work couldn't miss his handiwork. Rumours soon spread, "That lawnmower bloke must be mad."
Mowers & More Does it Again in Campbellfield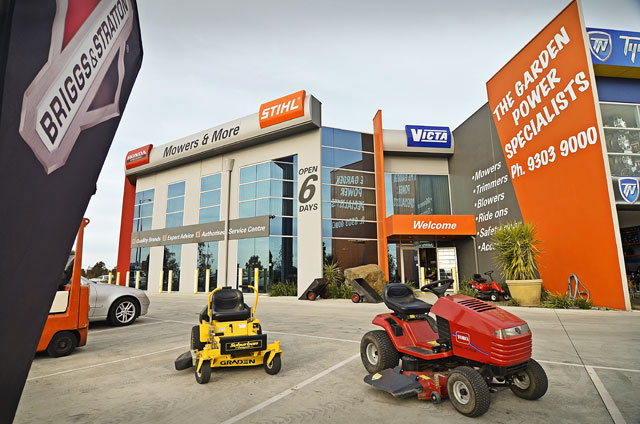 In 2012, Erwin opened an amazing new showroom in Campbellfield. Walk in and you'll see that it's almost a case of history revisited. It mightn't have a chandelier or a grand piano (yet), but we reckon you'll be impressed when you open the door and step inside! It's nothing like the oily, smelly place you're used to shopping in. Looking more like a car showroom, it's glossy floor reflects wall-to-wall mowers, trimmers, blowers, chainsaws, pressure washers and plenty more besides.
Everything's well-lit and laid out beautifully and logically. There's room to walk around and see the gear from all angles while one of the staff walk you through some of your options. There's no pressure, either. Even if you go to a few other stores – if you do a bit of homework – you'll probably be back to get all your grounds care gear from Mowers & More. They take care of their customers and in return, they come back time and again.
[printfriendly]